Summer Leaderboard: 2026-2027 Trackman Leaders
September 16, 2022
PBR Florida
PBR Florida Staff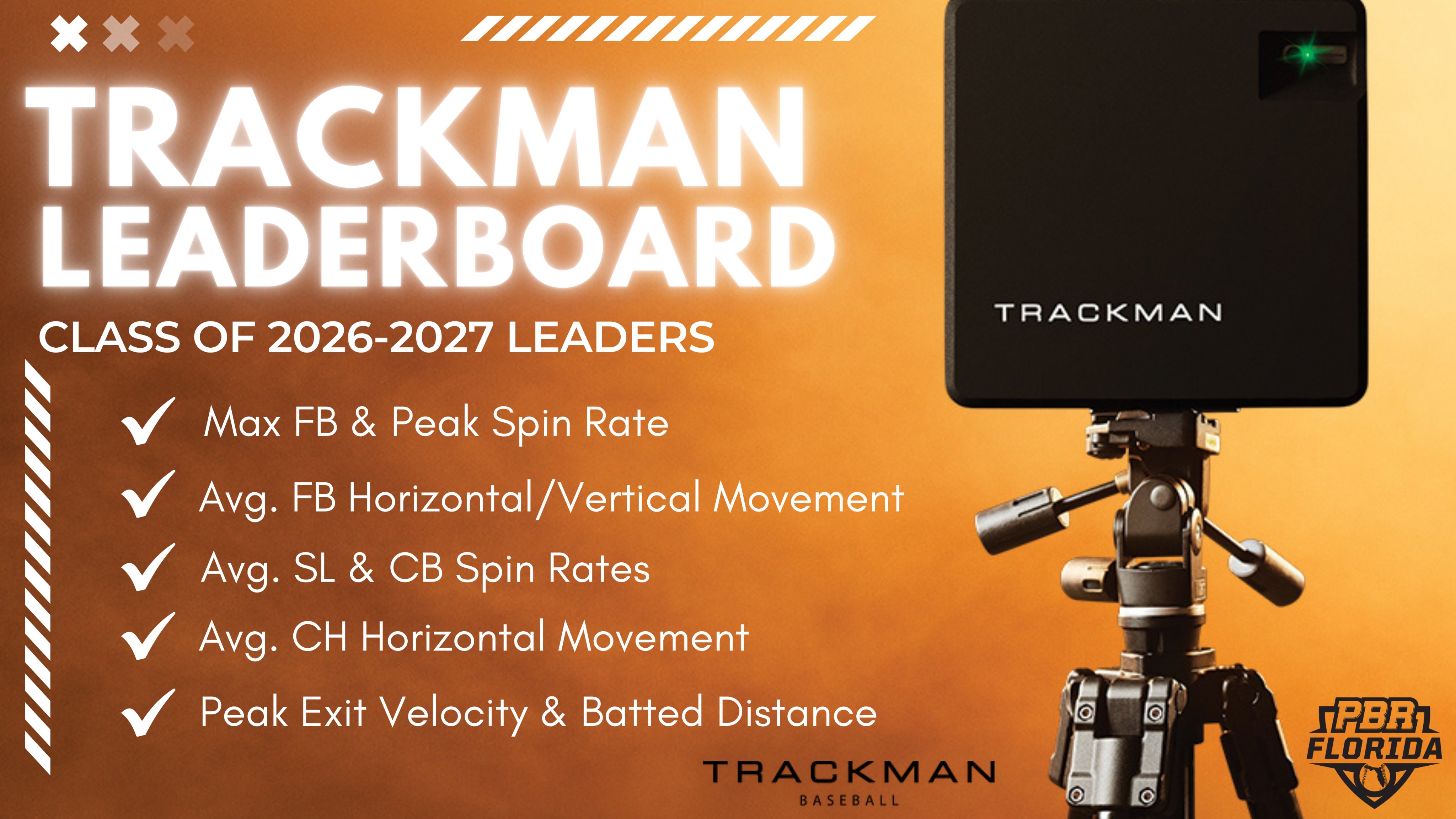 The 2022 Summer Circuit is in the books and Fall season is just getting started. At Prep Baseball Report, we offer a wide variety of tech deliverables that help college coaches evaluate players on an analytic level. At each showcase, hitters receive data from Trackman and Blast during their batting practice session. Pitchers receive Trackman data as well as Pro Play AI during their bullpen or live game outing. All position players receive running and jumping data from Swift Performance. Our goal is to give players an ability to stand out other than the average eye test.
With the summer in the past, we will start to look at what players stood out this summer with their analytics. We will break down each grad class with leaders in different Trackman, Blast, and Swift metrics. Today we will break down Trackman leaders from the 2026-2027 classes with insights on each category.
MAX FASTBALL & PEAK SPIN RATE


Max Fastball Velocity: This metric calculates the speed of the pitch as it's released from the pitcher's hand.

Spin Rate: This metric calculates the rate of spin on the baseball as it leaves the pitcher's hand, measured in revolutions per minute (rpm). Historical data shows that high-spin fastballs lessen the impact of gravity, allowing for more 'rise' (or less fall, in other words) as it carries through the zone. Low-spin fastballs typically indicate the pitch has greater horizontal action, often making it tougher to square up, but generally easier to make contact with, leading to more ground balls, while high-spin fastballs show a correlation with swings and misses.

AVERAGE FASTBALL INDUCED VERTICAL BREAK

Induced Vertical Break: Outlined on TrackMan's own website: "Distance between the height at which the ball crosses home plate and the height at which it would have crossed if it travelled in a straight line from release and were affected by gravity, reported in inches or centimeters."

AVERAGE FASTBALL HORIZONTAL MOVEMENT

Horizontal Break: Outlined on TrackMan's own website: "... horizontal movement is measured in inches between where the pitch actually crosses the front of home plate side-wise, and where it would have crossed home plate side-wise if had it traveled in a perfectly straight line from release. A positive number means the break was to the right from the pitcher's perspective, while a negative number means the break was to the left from the pitcher's perspective."

AVERAGE SLIDER SPIN RATE


AVERAGE CURVEBALL SPIN RATE


AVERAGE CHANGEUP HORIZONTAL MOVEMENT


AVERAGE EXIT VELOCITY (HITTING)

Exit Speed: Also according to TrackMan's own website: "The speed of the ball, measured in miles per hour, as it comes off the bat at the moment of contact."

PEAK EXIT VELOCITY (HITTING)


PEAK ESTIMATED BATTED DISTANCE (HITTING)

*These leaders are from summer events in Florida only. Future Games, Junior Future Games, and Southeast Senior Games are not included.
UPCOMING EVENTS